Bungle Bungle Savannah Lodge
Staying with us includes a hot shower,  home cooked meals and a comfortable bed at the end of the day. There's a swimming pool, a generous supply of hearty meals and a cold beer or glass of wine and stories around the campfire.  There's an enclosed dining or outdoor deck area for you to enjoy your prepared meals. Everything has been carefully designed to eliminate dependence on diesel generating systems while functioning in the remote conditions, causing little impact on the environment and blending in with the surroundings. Bungle Bungle Savannah Lodge is certified ecotourism friendly for up to 60 people. 
If you are making your own way around the Park, you can still stay at the Bungle Bungle Savannah Lodge, so it's not a rush to get into and out of the Park in the one day.  
Visitors tell us that staying at Bungle Bungle Savannah Lodge is a highlight in itself. To sleep in a natural world heritage listed area and see the expanse of stars above is a wonderful experience. To be able to do this in comfort enhances the adventure.
You've come so far. Make the adventure last.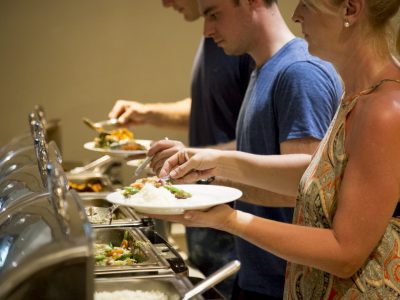 Dinner Bed & Breakfast
Dinner, Bed & Breakfast For the traveller that really wants to relax and not worry about a thing, let the chef at Bungle Bungle Savannah Lodge cater to your needs. ...
More Info