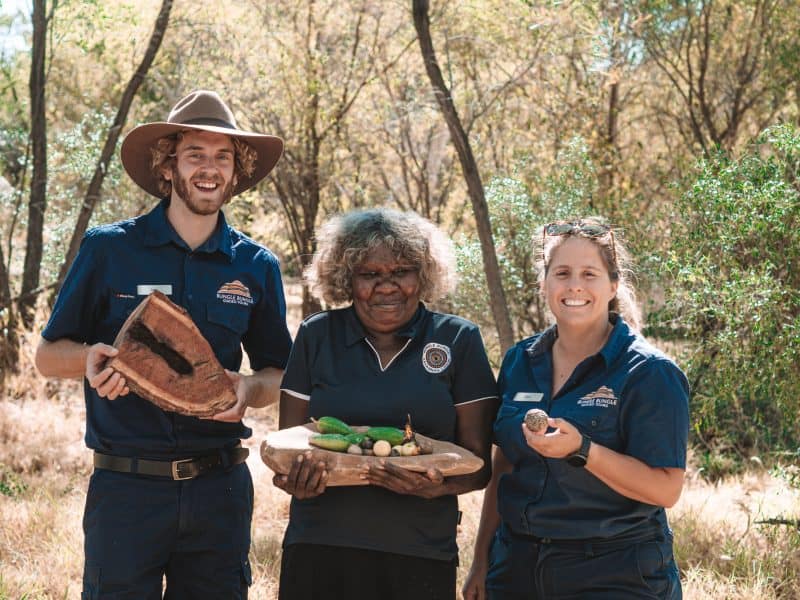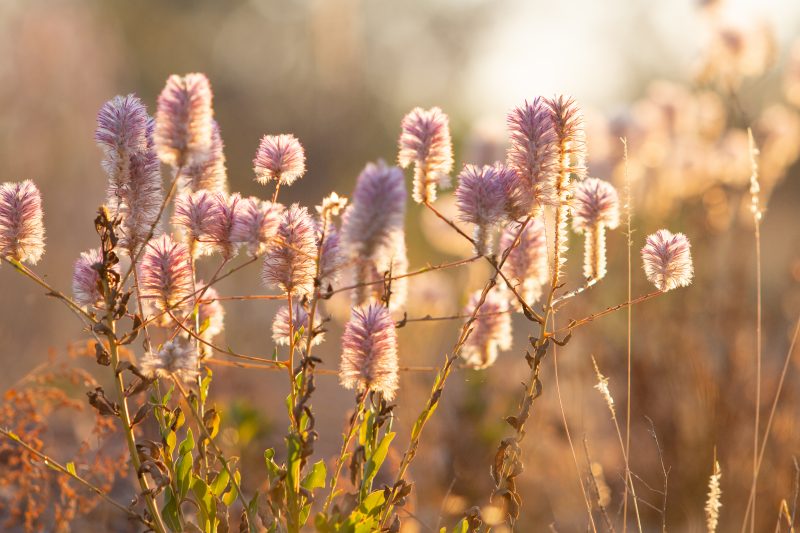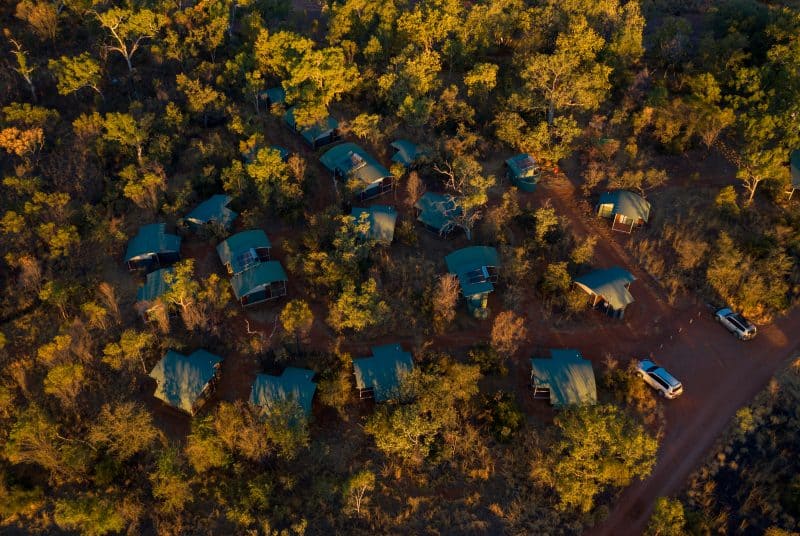 Community and Environment
Bungle Bungle Savannah Lodge recognises its privileged position to operate within a UNESCO World Heritage site of great ecological and cultural significance, and is therefore committed to providing the highest standards of environmentally and culturally conscious tourism. We aim to offer a level of hospitality and comfort not otherwise available within the Purnululu National Park. We also strive to provide opportunities for our visitors to connect with and appreciate the cultural connections Aboriginal people have to Purnululu country, the ecological importance of this landscape, and the importance of reducing our environmental footstep when travelling and carrying out our everyday life.
Our commitment to Sustainability, Cultural Safety, and Community is demonstrated as follows:
EcoTourism 
Bungle Bungle Savannah Lodge is proud to hold an Ecotourism Australia Green Leader Accreditation, recognising businesses who have achieved and maintained Eco Accreditation for over 10 years. When Bungle Bungle Savannah Lodge was originally developed, the objective was to offer an authentic nature based experience with unrivalled proximity to the Bungle Bungle range, while operating with a minimal environmental footprint. As the business has grown and evolved, we have carried this commitment through with us, updating infrastructure, policies and procedures in line with changes to visitor expectations and advancements in technology and innovation.
As awareness and demand for ecotourism experiences has increased, Ecotourism Australia has developed a stringent assessment process, raising the bar for environmental, community, and cultural best practice. The Ecotourism Accreditation commitment extends beyond business operations, and we hope that visitors can take the encounters and experiences at Bungle Bungle Savannah Lodge with them throughout their travels and gain a deeper appreciation of the environments and cultures they visit.
For more information on how you can reduce your environmental footprint when travelling, visit www.ecotourism.org.au

ROC Accreditation
We are also pleased to hold a Respecting Our Culture (ROC) Accreditation. The Respecting Our Culture (ROC) program encourages the tourism industry to operate in ways that respect and reinforce Indigenous cultural heritage and the living cultures of Indigenous communities. As an ROC certified tourism operators, we are committed to protecting cultural authenticity and integrity, developing sound business practices, environmental protection and acknowledging Indigenous peoples spiritual connection to the land and water.
For more information about the Respecting Our Culture Accreditation, visit www.ecotourism.org.au/our-certification-programs/eco-certification-3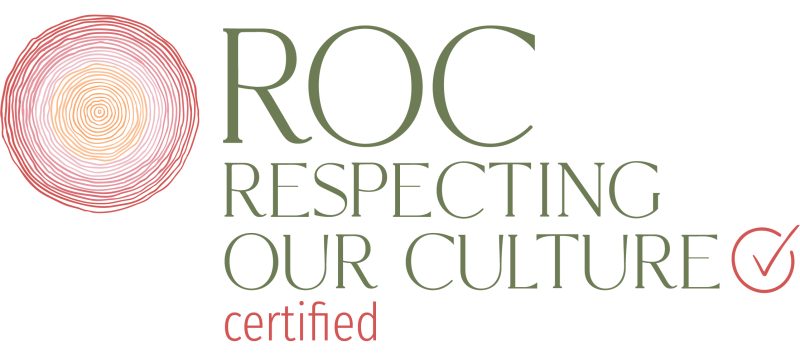 Water Conservation
Purnululu National Park is essentially an arid landscape during peak visitor periods. Bungle Bungle Savannah Lodge fully appreciates the need to conserve ground and surface water resources in the Park and also recognises its responsibility to provide a safe and sustainable water supply to service visitor needs.
Bungle Bungle Savannah Lodge have implemented a number of water saving initiatives as follows:
Installation of water saving devices on taps and showers (spring loaded taps and AAA rated low flow shower heads).
Low water volume toilet cisterns with dual flush.
Water efficient appliances such as washing machines.
Weekly monitoring of water consumption and weekly grounds inspection to check for leaks.
Avoiding vehicle washing.
Bed linen is sent off-site to be laundered in a commercial facility.
A 50,000 litre water tank captures wet season rainfall and services the swimming pool.
The swimming pool adopts a cartridge filtration system removing the need to backwash and waste pool water.
How can you help?
Refer to our in-room Guest Compendium for ways to reduce your water usage while staying with us. And remember, water is precious commodity wherever you are, so always adopt water saving practices.
Energy Conservation
Bungle Bungle Savannah Lodge have implemented a number of energy conservation initiatives such as:
Operating with a hybrid solar/ battery/ diesel generator system. The diesel generator is utilised for a maximum 5 hours per day, with a plan to reduce to emergency power generation only by 2023.
The solar power system has been upgraded in 2021 and 2022 to triple its power producing capacity.
Cabins feature LED lighting, and only natural ventilation and pedestal fans are used, no air conditioning.
Hot water is heated utilising solar and instantaneous gas.
Pool pump is timed to coincide with peak solar power periods.
Solar flow pool heating during cooler dry season months.
Light timers installed in public areas.
Use of electric powered buggy for housekeeping.
Facilities and assets inspected weekly and any defects resolved promptly.
Vehicles are maintained and operated to operate cleaner and reduce diesel consumption wherever possible.
How can you help?
Always switch off appliances, lights and fans when not in use. We ask that you please avoid bringing car fridges into your cabin. If you live closer to an urban area, consider sourcing your energy from a 100% Accredited Green Energy provider.
Waste Management
Bungle Bungle Savannah Lodge have implemented the following waste management initiatives:
Products purchased in bulk to avoid excess waste disposal and wherever possible, environmental packaging preferred.
All rubbish is transported off site to a council waste facility.
Recycling has only recently been introduced to the Kimberley. 10 cent cans and bottles are contained on site and transported to the 'Containers for Change' facility. Funds generated through this process are utilised for staff rewards and team chosen charities. Soft plastics are recycled through the Recycle program available through Coles Kununurra. For more information visit https://redcycle.net.au/ and www.containersforchange.com.au/wa
Appropriate food scraps are fed to our chickens.
Fresh fruit and vegetables sourced locally through ORIA Orchards is transported via reusable heavy duty plastic crates reducing the need for boxes.
Reusable water bottles and lunch containers provided on tours. Biopack is used for single use lunch containers.
In 2022, we have switched to guest amenity dispensers rather than individual amenities, utilising local Sandalwood products from an Australian Trusted Trader with ISO 14001 Environment, ISO 9001 Quality, and ISO 4801 Safety, Certifications.
Where possible existing infrastructure and equipment is renovated and upgraded, rather than replaced.
How can you help?
The best way to reduce waste is to avoid having waste in the first place. Consider purchasing products with reusable packaging, and avoid bringing waste generating items into the National Park. We ask guests to take their rubbish out with them, or please support our recycling initiatives by placing recyclables in the bins provided. Please use your own water bottles and top up from the cold tap on our restaurant deck.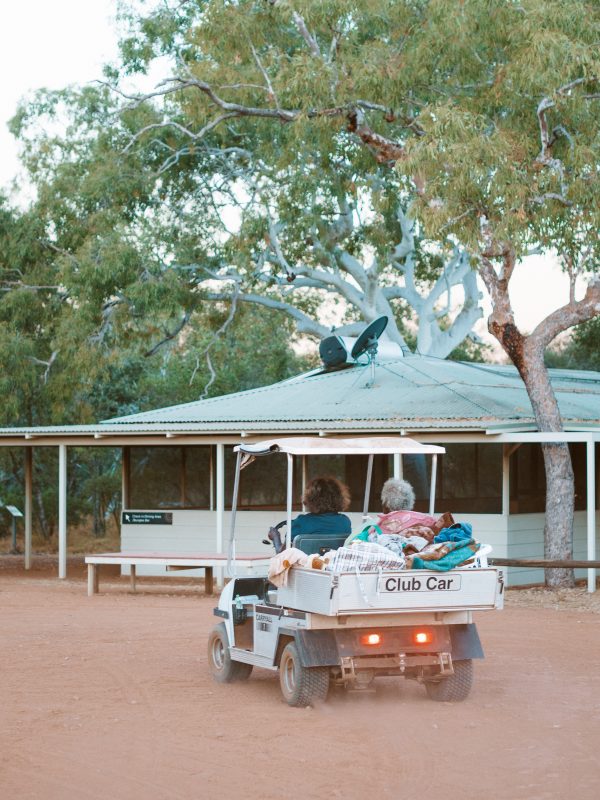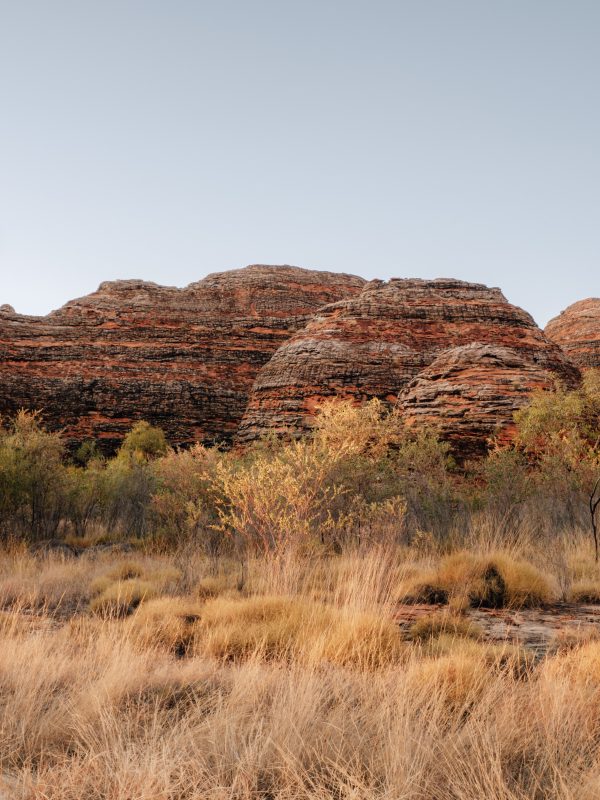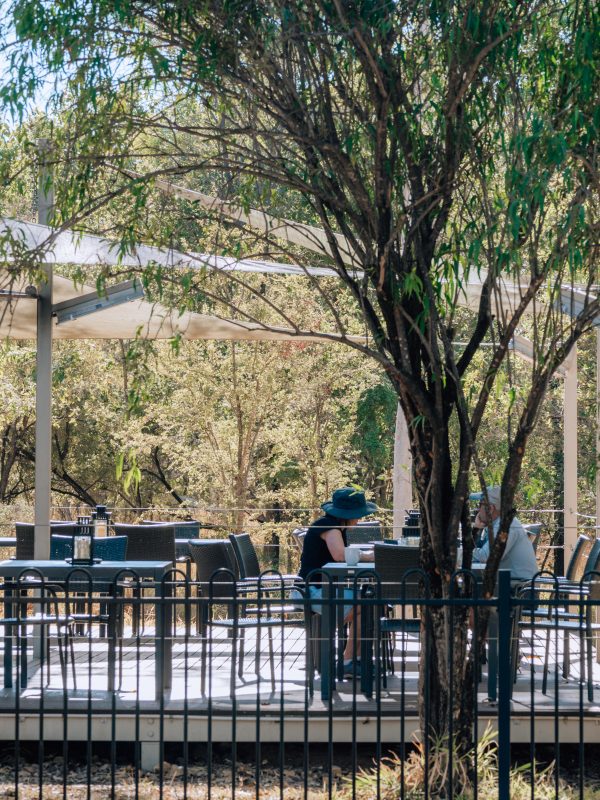 Community and Economy
Bungle Bungle Savannah Lodge is a part of the Kimberley Experiences Group and have a strong desire to give back to the communities it operates in. Kimberley Experiences Management is based in Kununurra contributing to the economic and community development of the area with representation on a number of boards and organisations including, the East Kimberley Marketing Group, Kununurra Visitor Centre and SKAL Australia.
We actively encourage local employment and will provide training and development where required.
We have employed a number of local residents, in particular Traditional Custodians, and offered paid workplace learning experiences working with local employment and training providers East Kimberley Job Pathways, North Regional Tafe, and Kimberley Group Training.
Our business operates in consultation with Senior Traditional Custodians on product development, cultural representation, Aboriginal employment, and caring for country.
Senior Traditional Owners are invited to site to conduct a 'Welcome to Country' or 'Manthe' for staff and guests at least once yearly.
We feature and promote local and native ingredients in our menus.
We support local clubs, charities, and organisations including the Kununurra Kangaroo Haven, Ride to Conquer Cancer,  East Kimberley Aboriginal Achievement Awards.
We have a local procurement policy and have invested more than 50% in the local Kimberley economy in the last Financial Year.
We have a sponsorship program which supports local clubs, charities, and organisations. Organisations and events that have been supported during the past financial year include:  Kangaroo Haven, East Kimberley Aboriginal Achievement Awards, Community NAIDOC Week Celebrations, Breast Cancer Foundation and Ord Valley Health Service's Vaxxathon.
We also participate in regular destination marketing campaigns in conjunction with Tourism WA and Tourism Australia to promote the region to help drive intrastate, interstate and international tourism numbers.
How can you help?
When travelling through the region, remember to support the local stores, eateries, galleries and service providers. Aboriginal art of the Kimberley region is exquisite and highly acclaimed with many art centres open to visitors such as the Warmun Arts Centre, Waringarri Arts or Artlandish Art Gallery. If contemporary art is more your style, be sure to visit Artopia Gallery in Kununurra which features local landscapes, flora and fauna.
Please be mindful that many areas dotted around The Kimberley hold significant and continuing cultural importance to Aboriginal people. Please refrain from poking around in unmarked areas, or areas with prohibited access. If you come across rock art or an Aboriginal artefact, it is important not to touch or remove anything from that site.
Much of the Kimberley is designated cattle station country. The old rules of the bush apply when travelling through the region, if you open a gate please close it. If access is prohibited this is likely to protect your safety during aerial mustering or other station activity, or due to a damaged or impassable road.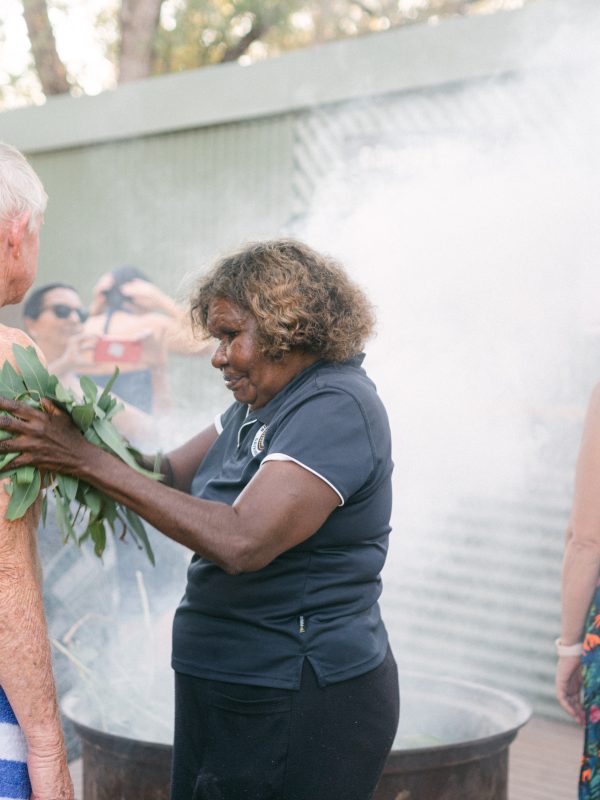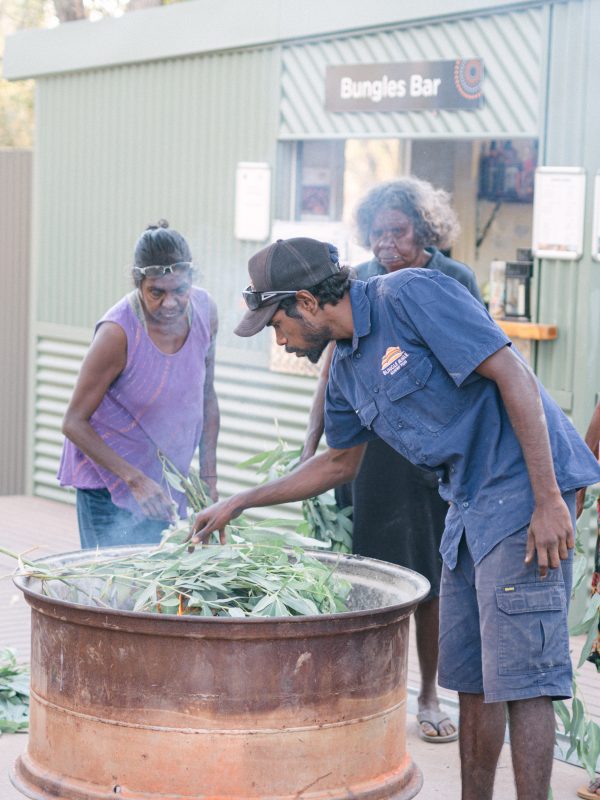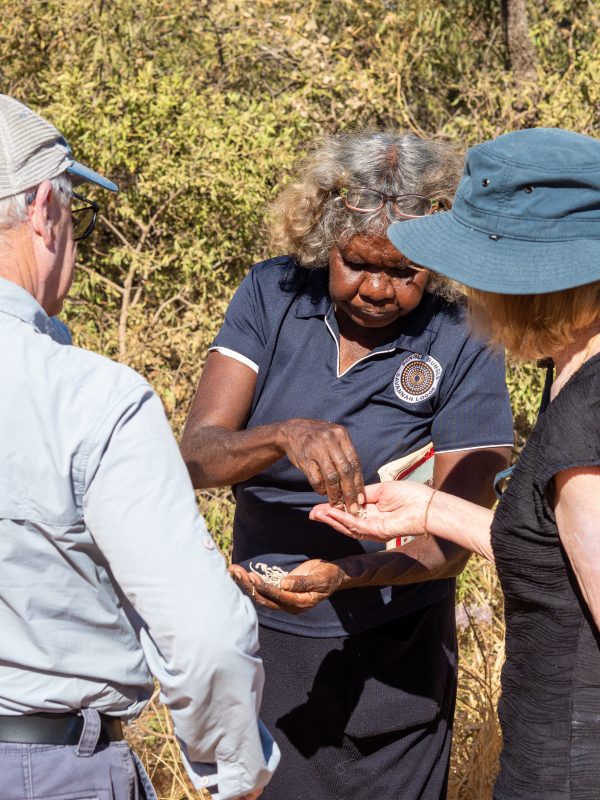 Caring for Country
Bungle Bungle Savannah Lodge is nestled within a bush setting to allow visitors a full nature immersion. The grounds and gardens here remain mostly untouched, no landscaping or watering takes place, allowing the landscape to change with the seasons as it normally would. Grass removal and slashing is the only intervention for fire protection purposes. We do not remove large trees or vegetation.
We monitor grounds and hiking trails for weeds and non-endemic species, removing where possible and reporting to DBCA.
We carry out regular cane toad busting to try to keep the local population to a manageable level.
We work with DBCA to carry out cool wet season burns to reduce the fire load in and around the Bungle Bungle Savannah Lodge.
Bungle Bungle Savannah Lodge uses only Environmentally friendly cleaning products.
We assist DBCA with the trapping of feral cats who have a devastating impact to the natural wildlife.
Pets, other than service dogs are not permitted within the National Park.
The feeding of wildlife is prohibited.
How can you help?
Before entering the Purnululu National Park and any other untouched natural areas, check camping equipment, shoes and vehicles for seeds and spurs you may be unknowingly relocating into a new area.