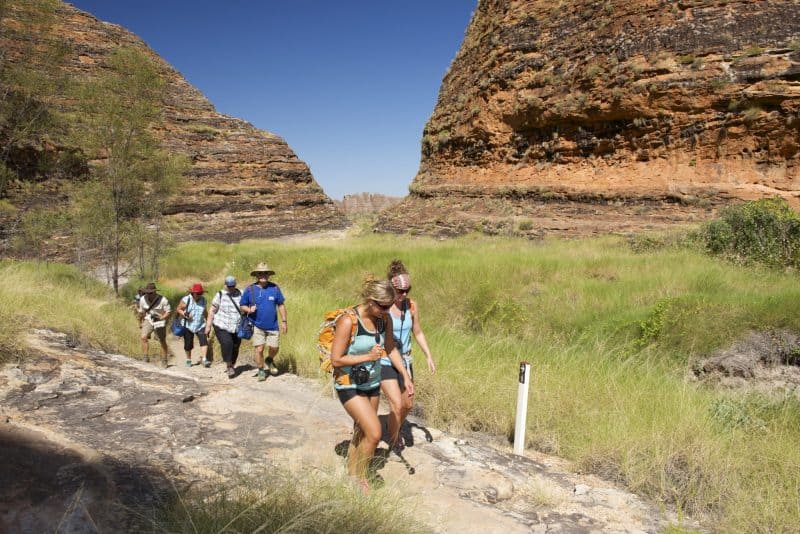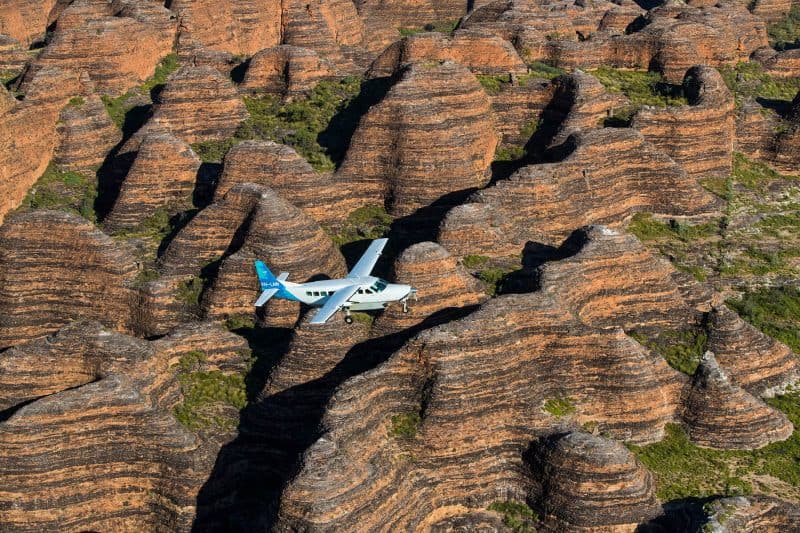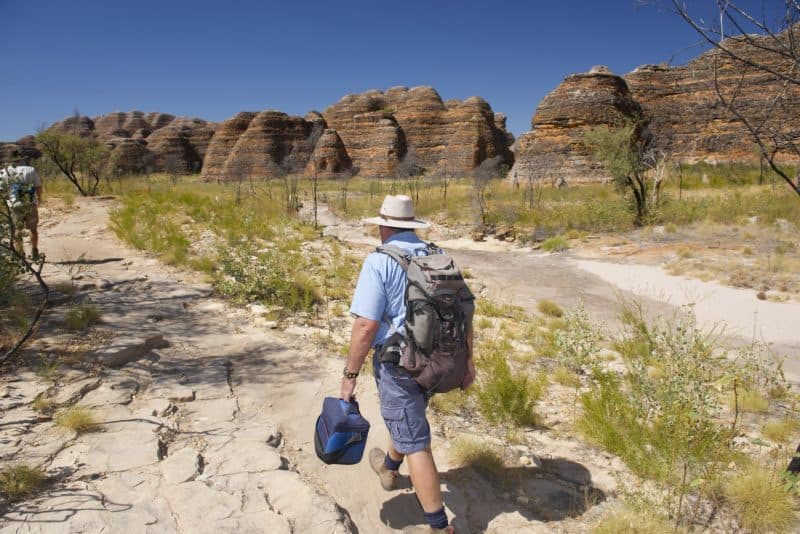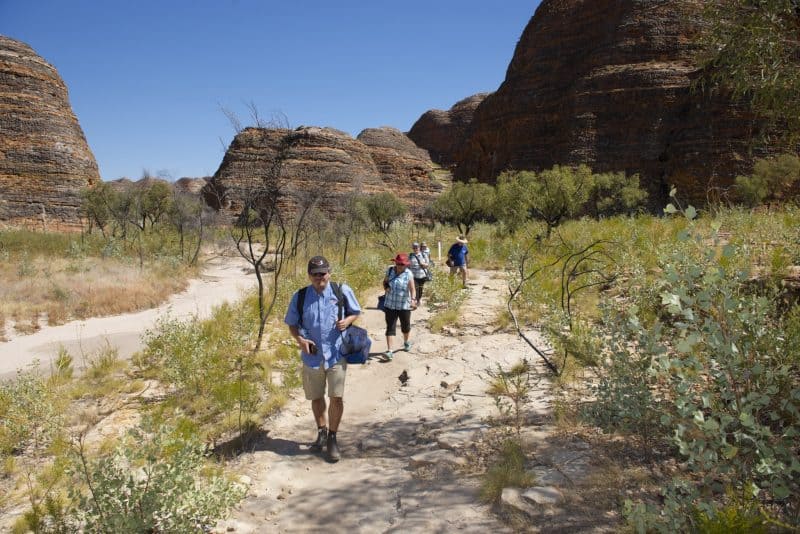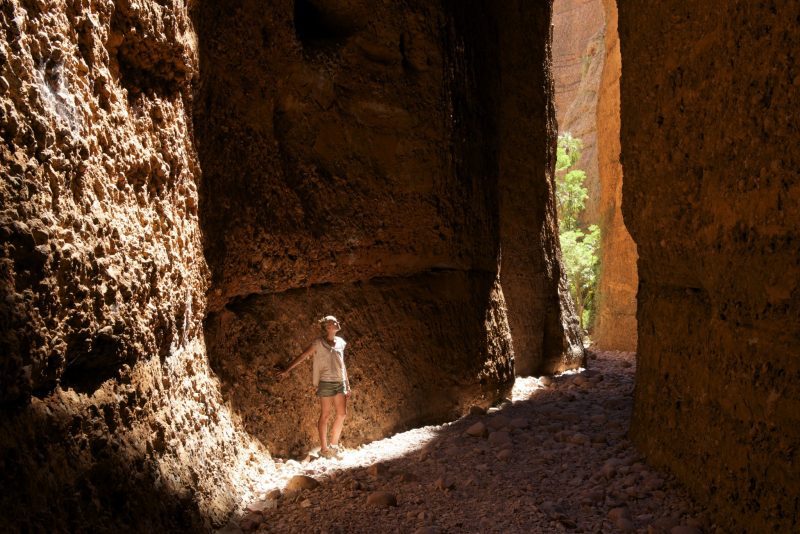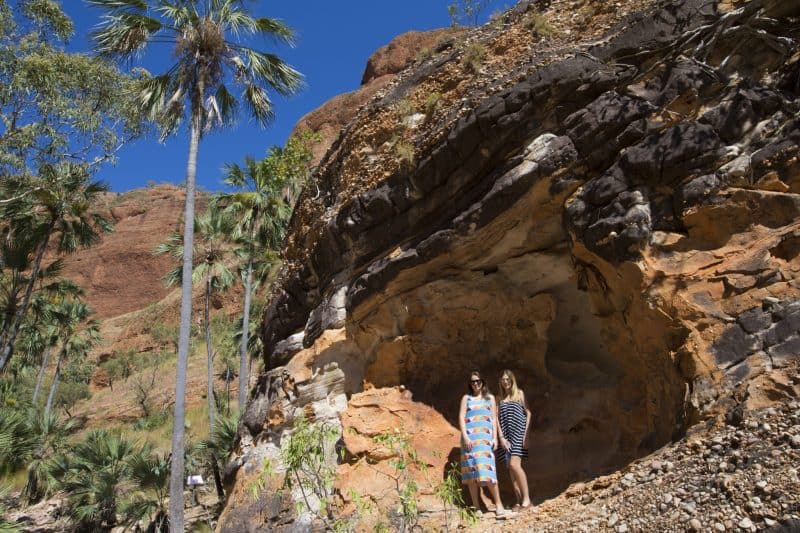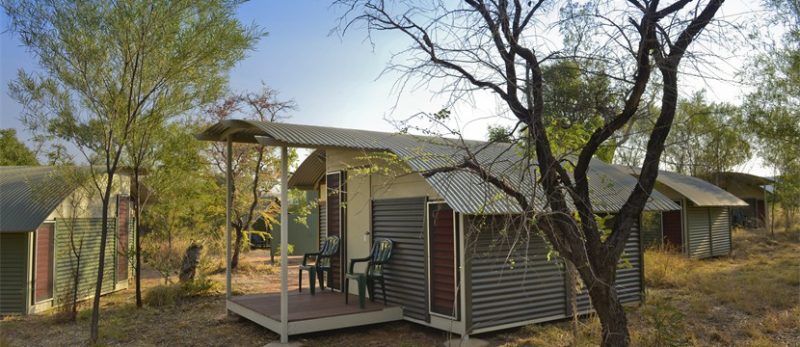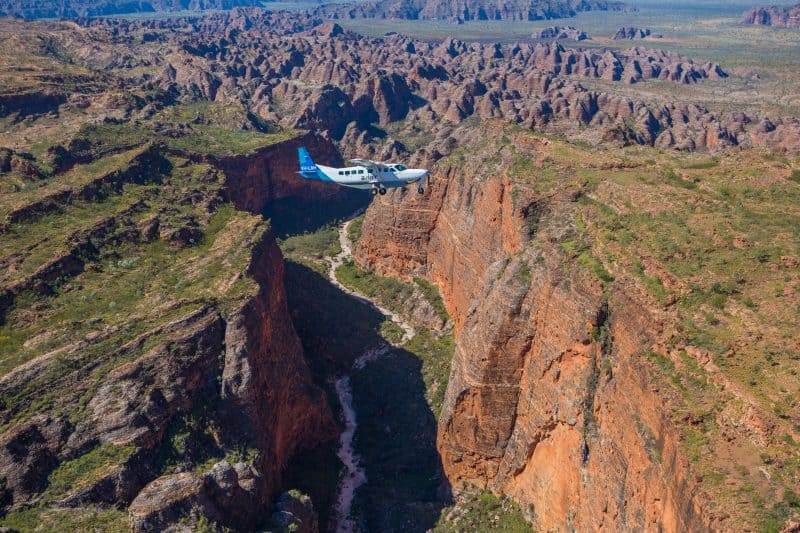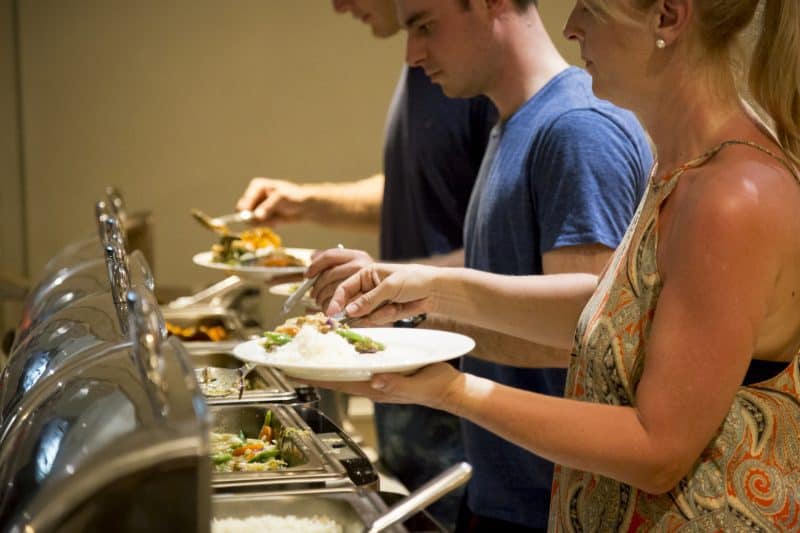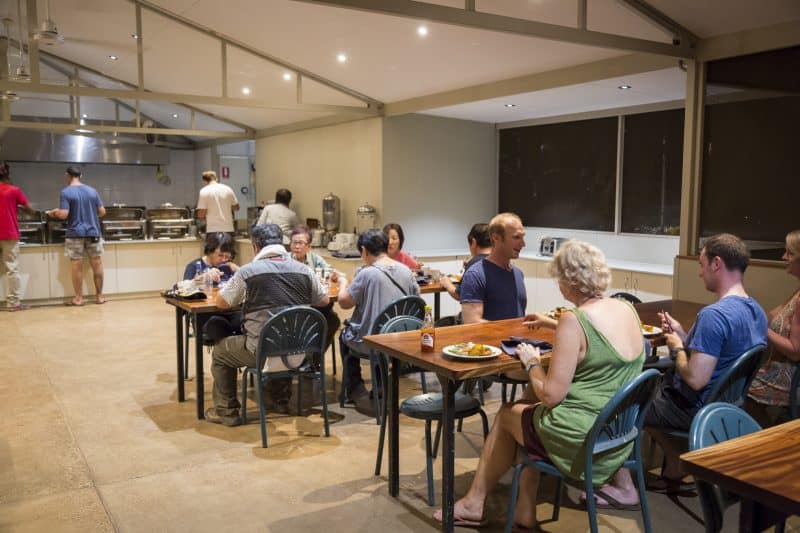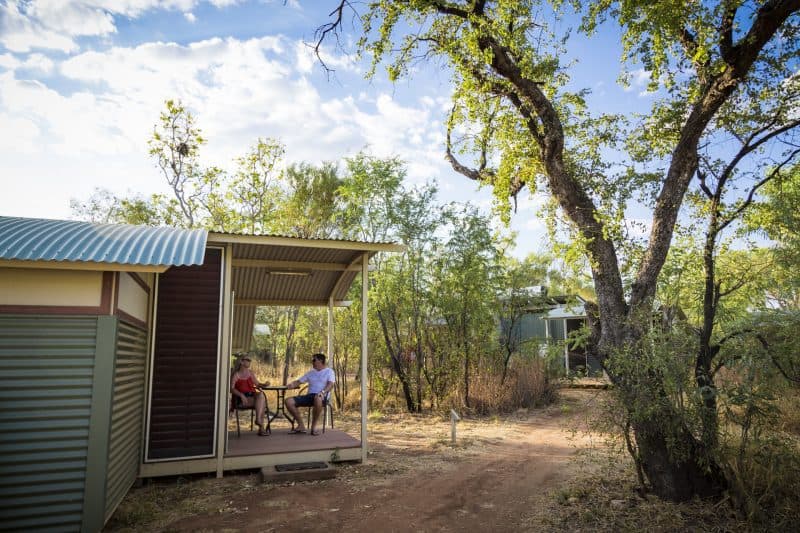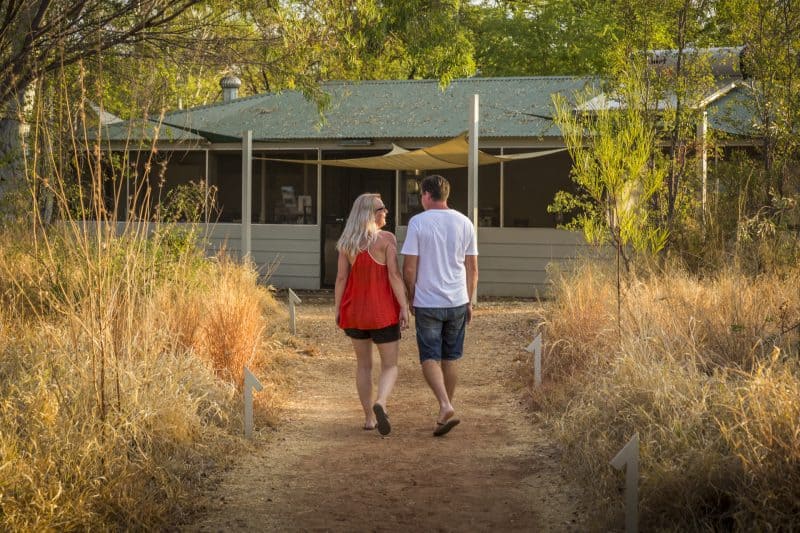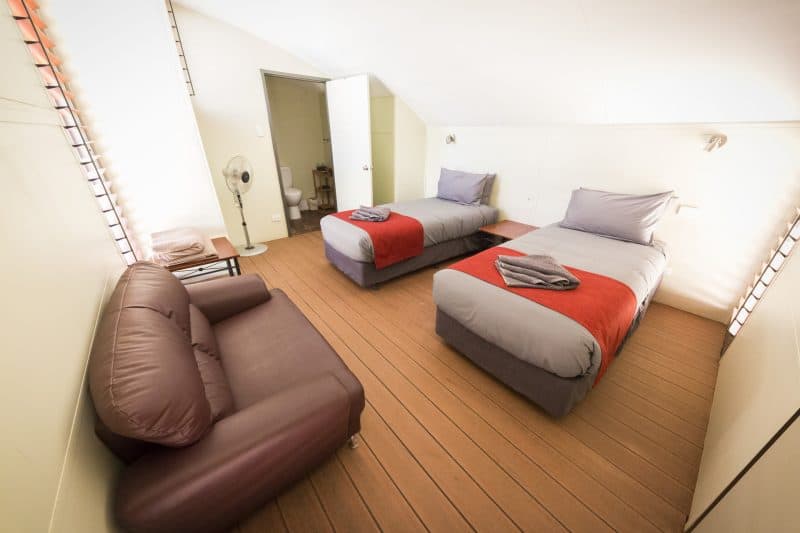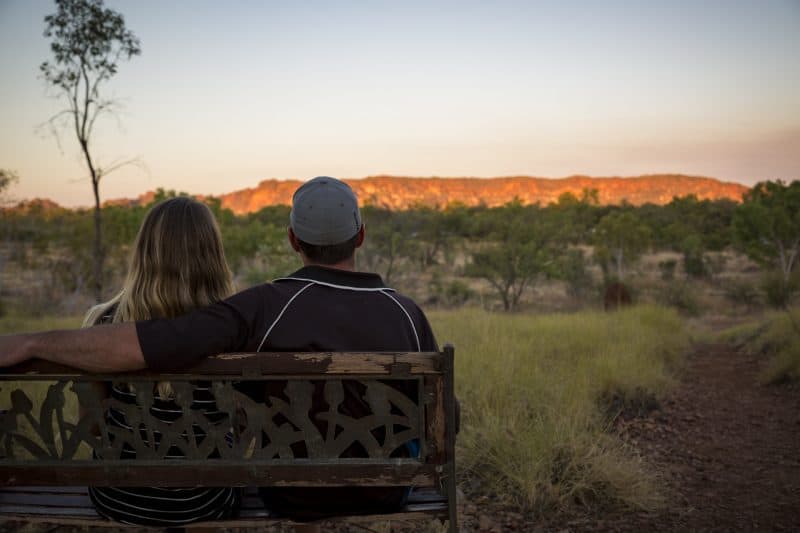 KB02-SN – Bungle Bungle 2 Night Stay Over
Day One
Your spectacular flight from Kununurra will include the magnificent Ord River, the enormous Lake Argyle, Lissadell & Texas Downs Stations, the rugged Osmand Ranges and a birds-eye view over the incredible Bungle Bungle Range.  Landing at Bellburn Airstrip, join your guide for a tour of the spectacular Beehive Domes and a walk to Cathedral Gorge.  Whilst having lunch, soak up the incredible atmosphere in breathtaking Cathedral Gorge.  
Arriving back at the unique Bungle Bungle Savannah Lodge, relax in your cabin or take in the sunset on another beautiful Kimberley day.   Dinner is served at 7pm and can be enjoyed within the enclosed dining area or out under the stars on the deck adjacent to the Bungles Bar.
Meals Day One
Lunch & Dinner
Accommodation
Bungle Bungle Savannah Lodge
Day Two
After breakfast, board the vehicle for the drive to the northern end of Purnululu. Your walks today will take you into the extraordinary Echidna Chasm and Mini Palms Gorge.  Your picnic lunch will be enjoyed whilst on tour.
Day Two Meals
Breakfast, lunch, afternoon tea & dinner.
Accommodation
Bungle Bungle Savannah Lodge
Day Three
After breakfast, return to the Bellburn Airstrip where your flight will return you to Kununurra with aerial views of the Argyle Diamond Mine, Ragged and Carr Boyd Ranges.
Day Three Meals
Breakfast
Departs
9am (pick up 8.15am) Kununurra
Returns
Approx 8am on day 3
Gift
Lasting memories of your trip to the Bungle Bungle will be provided with a gift of the beautiful Bungle Bungle pictorial book by photographer Ben Knapinski.
Walk Cathedral Gorge
A moderate 3km walk passing over rock ledges, waterholes and eroded potholes before coming to an incredible natural amphitheatre carved out of the sandstone dome walls.
Walk the Domes
Easy 1km, 1 hour circuit walk amongst the famous 'beehive' domes of Purnululu National Park.  Class 4.
Walk Echidna Chasm
Easy to moderate, 2km, 1 to 2 hour return walk with challenging short climb near the end.  Experience a spectacular 200 metre high chasm with varying colour hues.  A short walk off the main trail takes you to a look out with magnificent views of the Osmand Range.  Class 3.
Walk Mini Palms
A moderately challenging 5km, 3 hour return walk to a scenic amphitheatre with many young palms.  Easy at the start but progressively more difficult.  Class 3.
Things to Bring
Please bring a hat, enclosed walking shoes, sunscreen and light clothing, torch, water bottle, toiletries, camera, medication (if required), warm clothing for cool evenings – all in a small, soft carry bag weighing no more than 8kgs.
Includes
Park entry/license fees
Adult
$2,140
Child
(12 Years And Under)
$1,646
Single Supplement
$161 per night